Are you interested in working at Pig House Cabinets?
Typical work hours are Monday-Friday (off on New Year's Day, Memorial Day, 4th of July, Labor Day, Thanksgiving, Christmas Eve, Christmas Day).
Current Openings
Finisher – Immediate Opening
Finishing wood products with paints or stains. Experience with spray equipment knowledge preferred; however, willing to train the right person. Must be able to pass a pre-employment and random drug tests. Must have reliable transportation. Monday-Friday, may include occasional overtime. Please complete an application and submit it to us.
Job Type: Full-time
Compensation $13.85-$17.00 per hour ($28,808-$35,360 per year) depending on experience.
Cabinet Installer/Trim Carpenter (Multiple Openings)
Duties include installing cabinets and performing trim carpentry work in residential and commercial settings. Applicants need a minimum of basic hand tool knowledge, attention to detail, problem solving skills, clear communication, and time management skills.
Experience is preferred, but not required. Must be able to pass a drug test (pre-employment and random testing throughout employment). Must have reliable transportation. Must have a valid driver's license.
Job Types: Full-time, Part-time
Compensation $13.85-$17.00 per hour ($28,808-$35,360 per year) depending on experience.
How to Apply
Please read these instructions completely before beginning.
Please click on the photo below to access the fillable PDF application.
A webpage will open with a small photo of the application.
Click on the photo with the Pig House Cabinets logo at the top.
Please note: The form requires Adobe to complete.  If you do not currently have this program on your computer, you can download it here for free.
Once the form has been completed, print it or save it to your computer.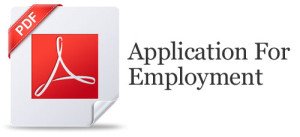 How to Submit your Application
Choose the option that works best for you.
Completed applications can be emailed to [email protected] or dropped off in-person to Pig House Cabinets (55 Flinn Industrial Drive, Ringgold, GA 30736). Applications dropped off in-person could result in on-the-spot interviews.